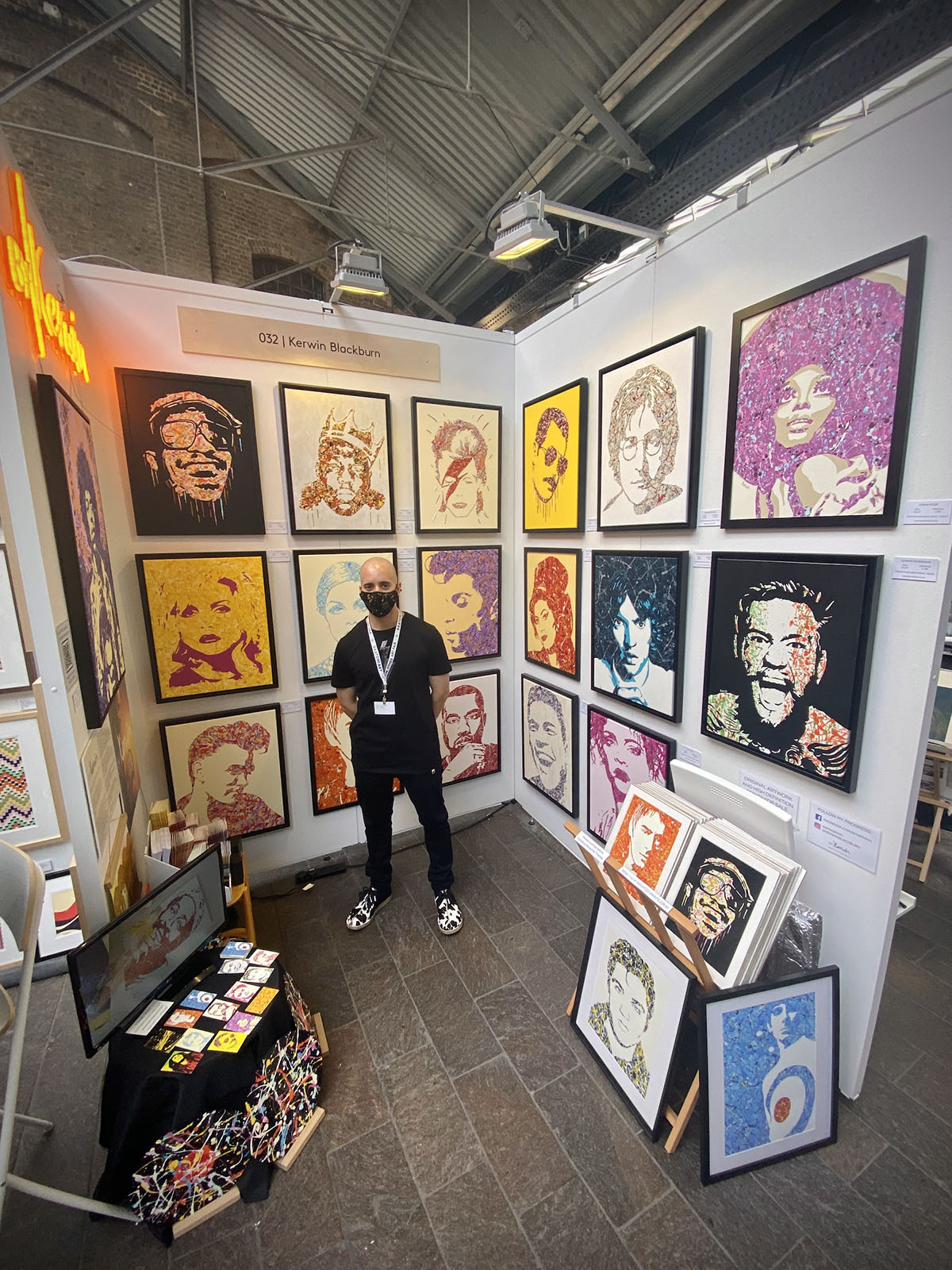 Kerwin's London Exhibition Debut at The Other Art Fair 2021
The Other Art Fair, Kings Cross, London, 1 – 4 July 2021
I made my London art show debut in July 2021, appearing at The Other Art Fair for four days between the 1st and the 4th July. This edition of The Other Art Fair was held at West Handyside Canopy, Coal Drops Yard, King's Cross. This followed by first two debut solo exhibitions in Norwich.
It was great to exhibit in the capital for the first time at this prestigious professional art fair, which is one of the world's biggest art fairs for emerging, independent artists. The Other Art Fair is presented by Saatchi Art and hosts annual or bi-annual fairs in major global art cities including London, New York, Los Angeles, Chicago, Dallas, Melbourne, Sydney and Toronto.
About The Other Art Fair
The Other Art Fair is also a competitive show to be accepted to exhibit at; artists must submit an application which is reviewed by a panel of Saatchi Art curators and then be accepted and invited to participate. For my first appearance at The Other Art Fair, approximately 110 spaces were available to around 500 applicants.
The Other Art Fair is a ticketed event that visitors must pay for to attend, so the organisers need to be sure they are displaying the right quality of artist. I was pleased to be accepted at my first time of applying (I've applied to, and exhibited at, The Other Art Fair on two following occasions. I was also accepted to exhibit at their Dallas show in 2022 but I opted for New York instead!).
This was the first edition of The Other Art Fair for about two years due to the pandemic, so there was much excitement and anticipation for the show being back in person and for the thousands of visitors to be able to view such a diverse range of artworks – and meet all the artists – over the four-day period.
Alongside the 110 up-and-coming artists, of which I was excited to be one – The Other Art Fair also hosts a guest artist at each event. The guest artist for the July 2021 London show was Ronnie Wood, of Rolling Stones fame. He had several original paintings on display, along with many limited edition prints available to purchase. (I thought he should have made an appearance himself at some point rather than just have his management run his stand, but there you go.)
Filling my stand at The Other Art Fair
At The Other Art Fair, in my 5 metre-long stand, arranged in a cubic booth shape, I had 18 original paintings on display plus several prints of paintings I'd previously sold. I had a print rack with some small prints available for purchase too. I also had my TV playing my painting videos (I was the only artist to have this idea, which I was very proud of!), along with my By Kerwin neon sign and business cards featuring my different paintings for visitors to choose from. I also displayed some new multicolour painted vinyl 12" records, created in my signature Jackson Pollock action painting style, to further emphasise the music theme of my artwork.
Over the four days I met and spoke to hundreds of enthusiastic art fair visitors, and sold many prints from my stand, plus three original paintings (Stevie Wonder, Blondie and Freddie Mercury all sold). I also received many online print orders after the event, which was great. As with my first two solo exhibitions in Norwich previously, my first London art show and The Other Art Fair appearance gave me further exhibiting confidence to build on.
Thanks to all the support I received online surrounding this show, and to the many friends and family who visited in person!
What was unique about this fair?
London in July 2021 was the first edition of The Other Art Fair that had happened for about two years, for obvious reasons. It was held at a new, open-air venue – the covered outdoor West Handyside Canopy at trendy Coal Drops Yards in King's Cross.
While Covid still meant the bar at the fair was shut (artists still smuggled alcohol in), the DJ was not permitted to play overly loud music, and everyone had to be in facemasks the entire time, there was nevertheless a really good atmosphere the whole time. It seemed there was a feeling of release among visitors, in the sense no one had been allowed to attend a social occasion and browse art in this way for sooo long.
The four days saw thousands of visitors to the fair, with the show open for about seven or eight hours each day. The Other Art Fair is therefore a pretty intense experience that sees some incredible memories and friendships made, so it's no wonder a lot of artists repeatedly like to appear at the fair each year.
Overall, my first London art show appearance was a huge milestone for By Kerwin and myself. It really elevated my brand to a new level, and the connections made were a great asset. Also, exhibiting under the Saatchi Art brand was really valuable to my brand too.
Thanks for having me, The Other Art Fair! I enjoyed my time so much I appeared at their October 2021 London fair in Shoreditch too, as well as their New York fair in June 2022.
Read my follow-up blog post on The Other Art Fair to find out more about how I planned the details of my first appearance at this fair and debut London art show. Plus, discover more general insight into how the fair works for participating artists such as myself.
You can continue to follow my art progress on Instagram and Facebook.
Explore my full range of 'By Kerwin' Jackson Pollock-inspired pop art paintings, and shop prints of your favourite music icons in my online store, www.bykerwin.com. All of my paintings are available as premium quality prints from £35 – £75, with fast worldwide delivery.