Delivery Updates: 16th February
I'm pleased to report that after delays over the winter due to both Covid and Brexit, deliveries are largely back to normal now.
I remain in contact with my fulfilment partner in Europe, and if there are any further issues I will update here.
Thanks! Kerwin
What inspires you?
Over the years I have tried various styles and techniques. My favourite style is my own unique Jackson Pollock-style action painting portrait technique that I have developed. I love the sense of motion in this style of painting, and the textures and depth created with the different layers of paint.
Jackson Pollock was an American painter most known for his 'drip' technique during the 1940s. I first came across this style through The Stone Roses whilst a student in Manchester - guitarist John Squire used this action technique to paint the band's album artwork.
I love combining this style with the portraits of some of the most recognisable music and sporting icons. It's fun and also challenging to experiment with different colour schemes and paint palettes and to work out how to balance different colours. It's also great creating faces that people can connect with.
What do you paint with?

All of my paintings are acrylic on canvas - the most versatile, practical and fast-drying medium for what I want to do.
What quality are the prints like?

All prints are sharp-resolution, gallery-quality giclée prints, printed on thick and durable (10.3 mil/192 gsm) matte paper. Perfect for framing to make a statement and inject energy and creativity into any room. Ideal for gifts or to treat yourself.
For prints in a larger size than listed, please get in touch and I will do my best to accomodate this.
How long will my order take to arrive?

Products typically arrive within around 7-10 days.
Can you deliver the prints framed?

I don't currently offer a framing option as the postage costs don't work out too well. There are many frames available on Amazon (all my prints come in standard frame sizes) - feel free to send me a message or email kerwinblackburn@gmail.com and I can recommend some good brands.
Are your portrait paintings Photoshopped?
No! They are entirely hand-drawn, hand-painted, hand-taped and then hand-painted some more. Visit my Process page to watch my exclusive videos to learn more about the process, and take a look at my Behind The Scenes gallery to see snaps of the paintings being constructed. Good memories!
Can I commission a custom piece?
Yes! Commissions are available, please send me a message.
How can I contact you?
Please get in touch via the Contact page, at kerwinblackburn@gmail.com, or via Facebook or Instagram.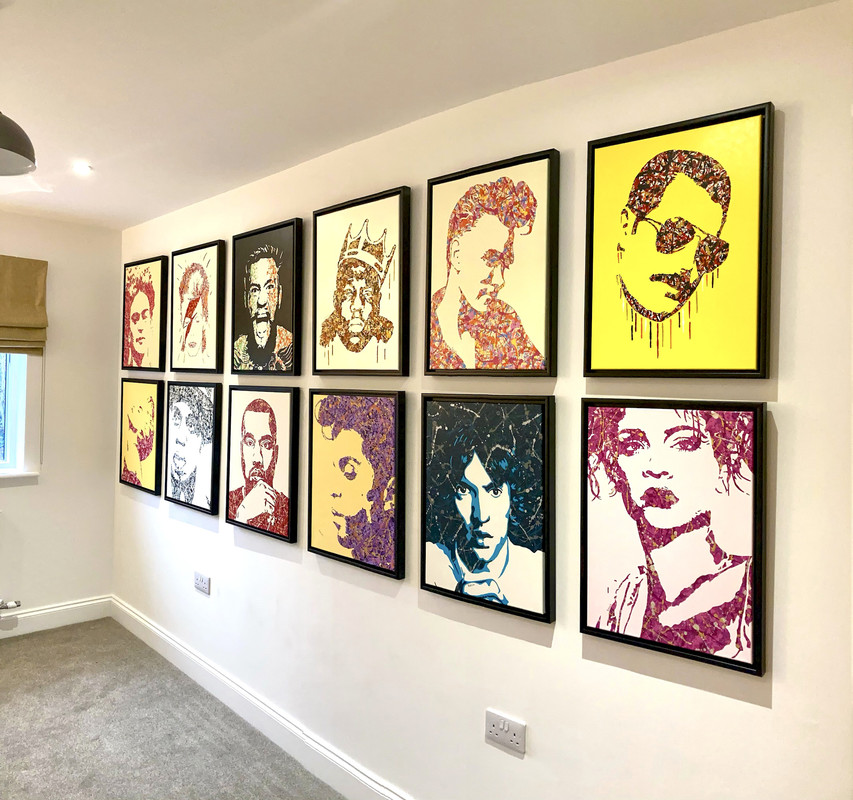 All images © Kerwin Blackburn 2021