What Is The Other Art Fair? How Do I Apply To Exhibit?
Plus, tips for artists exhibiting at The Other Art Fair from UK artist Kerwin Blackburn
In June 2021 I appeared with my By Kerwin range of Jackson Pollock-inspired paintings and artwork at The Other Art Fair for the first time, which was also my first time displaying my art in London. These popular four-day fairs, affiliated with famous art house Saatchi Art, happen regularly all over the world, attracting thousands of visitors and art buyers each time.
These fairs have been so useful to my By Kerwin brand that I've also appeared at two of their other event – London again in October 2021, and The Other Art Fair in New York in 2022. What exactly is The Other Art Fair, though, and what makes them so popular among artists and visitors alike?
Plus, how exactly did I plan the details for my first fair appearance, which was also my first time exhibiting in London? And what tips do I have for aspiring artists wishing to apply to The Other Art Fair?
What is The Other Art Fair?
The Other Art Fair is one of the world's biggest art fairs for emerging, independent artists. Presented by Saatchi Art, the fair connects artists directly with art visitors and buyers in fairs hosted in global art cities including London, New York, L.A., Chicago, Dallas, Melbourne and Sydney.
How many artists are on display at The Other Art Fair?
The Other Art Fair typically exhibits between around 100 – 170 emerging, independent artists from around the world for their four-day art fairs. Visitors to the fair are treated with the opportunity to meet with and buy directly from the artists on display, often creating lifelong connections.
Applying to exhibit at Saatchi Art's The Other Art Fair
The application process for The Other Art fair involves an online form with various different stages and pieces of information required. An aspiring artist must present themselves and their artwork, and convey what they will add to The Other Art Fair's line-up at the event.
Each artist applying to The Other Art Fair must submit images of three or four artworks, and then briefly describe the meaning of the artwork, plus its medium and retail price. The Other Art Fair has a very commercial focus, so they also require links to social media profiles and an artist bio.
It therefore helps to have professionally-taken photographs of your artwork, and a well-written biography of your background, inspiration and motivations as an artist. I enjoy the commercial side of building By Kerwin, so I've always taken care to present myself and my art in an easy-to-digest, accessible way. Plus, writing about one's art is a very useful practice, and once an artist has a good written biography they can use this again in various places, just tweaking it as necessary depending on the audience.
From what I've heard and understand, many applicants fail at this stage because they do not have the confidence or ability to present themselves coherently to the outside world as an artist. It therefore is vital that any aspiring artist takes the time and effort to develop the necessary commercial awareness and sales skills to be able to communicate their practice.
Planning By Kerwin's debut London art show and The Other Art Fair appearance
I described in a previous blog post my first The Other Fair Appearance in June 2021 – take a look to see some photos to help you picture how the fair looked!
A few weeks after applying myself, in Spring 2021, I was so excited to receive the email offering me a place at the fair. I then had the task of figuring out what artwork of mine to display, and how exactly to get it to London. I also needed to consider pricing, signage on my stand, and all other small marketing details to present By Kerwin in the best way.
I hired a professional art courier company to transport my paintings and materials to London and then return these to my studio. The couriers drove all the way to Norfolk a few weeks before the event as part of their East Anglia art pickup to collect my artwork. Their team were so good I used them later in 2021 for another series of big London art shows (more on these in separate blog posts!).
I chose to display my most popular original, Jackson Pollock-inspired pop art portrait music paintings in a tightly-packed grid layout. I also made sure I had a good mix of music genres and eras represented on my stand, along with a good balance of colours.
The Other Art Fair provide several useful online webinars leading up to their events, to talk the participating artists through various details. These included webinars on the how to display your artwork on your stand and how to market yourself as an artist. They included provided sessions on transport and logistics surrounding the fair, focusing on key details such as artist insurance.
Setting up and opening at The Other Art Fair
Set up for The Other Art Fair, a four-day event, always happens on the Thursday, which is the day of opening. I was able to arrive as early as 9am, leaving me six hours to set up before the 3pm official opening. That sounds a lot of time, but knowing it was just myself working on my stand, I took the maximum time available.
I also remember it was very warm that day, being July, and the West Handyside Canopy roof magnified the heat and the sun. I made a very bad decision to wear black jeans for this part. At following art fair appearance I wore much more comfortable, street-style clothing on the first set up day and opening night, with smarter attire on other nights.
My artwork was already waiting for me at my stand when I arrived, having been dropped off by my courier company. After using the full six hours to do all the unwrapping, measuring, hammering, hanging, sticking of labels, displaying of other materials and so on, I was exhausted. Yet as soon as I'd set up it was 3pm, so visitors were quickly flooding in to see the 110 artists. The first day is also billed by The Other Art Fair as the Private View / VIP night, so there are many press and art industry people and gallery owners that attend this day.
Making the most of The Other Art Fair!
The second day of The Other Art Fair, the Friday, is always billed as the 'late night' session, usually complete with DJs, a bar and other entertainment going on. Unfortunately due to Covid the bar was shut, loud blaring music was not allowed so there was no DJ, and everyone had to be in facemasks the entire time. Nevertheless, there was a really good atmosphere. I and my fellow artists were buying cocktails in cans, beers and miniature wines from the nearby Waitrose to give to friends visiting our stands. This day saw the fair open from 3-10pm.
Saturday and Sunday saw thousands of further visitors to the fair, with the show open for about seven or eight hours each day. The Other Art Fair is therefore a pretty intense experience that sees some incredible memories and friendships made, so it's no wonder a lot of artists repeatedly like to appear at the fair each year. Opening time was around 11am-7pm
Taking down my artwork on Sunday was a little bit sad, as I'd had such a good few days over the weekend with my stand carefully curated and looking great. In fact the whole Sunday evening is a bit sad, as in the space of about 30 minutes The Other Art Fair goes from being an incredible display of artwork by 110 brilliant artists all lined up side by side in their booths, to looking like a building site. Bubble wrap and packaging all over the shop.
Overall, my first London art show appearance was a huge milestone for By Kerwin and myself. It really elevated my brand to a new level, and the connections made were a great asset. Also, exhibiting under the Saatchi Art umbrella was really valuable to my brand too.
Thanks for having me, The Other Art Fair! I enjoyed my time so much I appeared at their October 2021 London fair too, as well as their New York fair in June 2022.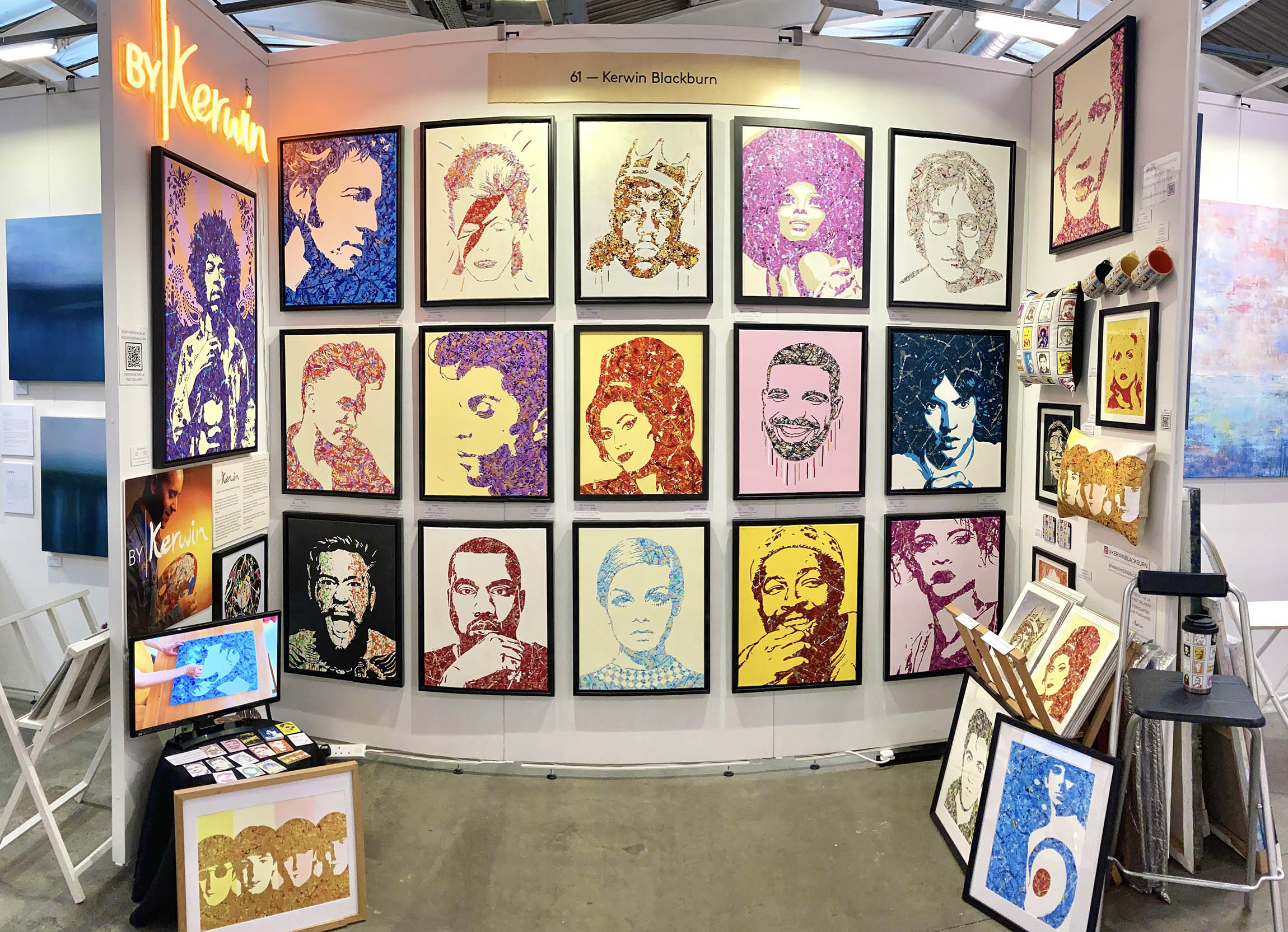 How much does The Other Art Fair cost?
Artists appearing at The Other Art Fair often pay upwards of £1500 for their stand, once tax is included, rising to several thousand for the largest stands. In addition, costs of art transportation and storage, plus marketing materials mean a TOAF appearance is a sizeable investment. In addition, Saatchi Art take a commission on in-fair sales, which are processed through their own payment systems at the fair.
These high costs are therefore likely to deter amateur or hobbyist artists that may be found at smaller-scale or local art and craft fairs – which is why The Other Art Fair is renowned for its high-quality pool of artist talent that can be expected to be seen on display at their fairs.
Is The Other Art Fair worth it?
While the cost of The Other Art Fair is high (for what is only a four-day event), it provides the chance to engage directly with thousands of enthusiastic art visitors and potential buyers. I also found that having visitors pay for entry is a good way of qualifying their audience. I've exhibited at a free London art fair, and visitors there weren't anywhere near as likely to purchase artwork.
The Other Art Fair also has relatively low organisational requirements compared to an artist organising their own exhibition (in terms of marketing the event and attracting an audience – this is ultimately what an artist is paying for).
The Other Art Fair, being presented by Saatchi Art, is well-connected within the global art industry and frequently secures good press coverage for their fairs. The Other Art Fair network also sees many art industry professionals, gallery owners, hospitality professionals, art journalists and more in attendance at their events.
I've also found, having participated at three editions of The Other Art Fair with my pop art brand By Kerwin, that there is value in having exhibited under the Saatchi Art brand. Having this prestigious brand on my art CV does help elevate an artist's reputation, which could potentially open doors to further exhibitions and opportunities in future.
Kerwin's verdict
For emerging artists such as myself and many others who exhibit at The Other Art Fair, the fair is a great way to build momentum and traction for my brand in the form of exposure for my brand, sales of my artwork, and photo, video and general social media buzz. For my first show in 2021 they also produced 'Meet The Others' video interviews with every artist promoting their work (watch mine above). They did this for several years – I'm not sure if they still do it.
Plus, I've always found their team really helpful and supportive. One you're accepted to The Other Art Fair you become part of the club. You also gain access to the private Facebook group with hundreds of artists from around the world, which is great for further advice. Also, when exhibiting you get loads of complementary tickets to The Other Art Fair to share with friends and family and your network.
If you have the funds available and are serious about your craft – and are looking for fast, widespread in-person audience exposure – I would definitely recommend to explore exhibiting at The Other Art Fair. Please get in touch if you want any more advice from myself.
You can follow my art progress on Instagram and Facebook.
'By Kerwin' is my range of Jackson Pollock-inspired acrylic paintings of the world's biggest music and pop culture icons. Explore and shop my full range of original paintings and print editions at www.bykerwin.com. Fast worldwide delivery available.